Module: Klik Buff
About
The KlikBuff module is about buffing. Here you can setup how buffs should be tracked on the players and (in the future) how players should be buffed automatically.
Setup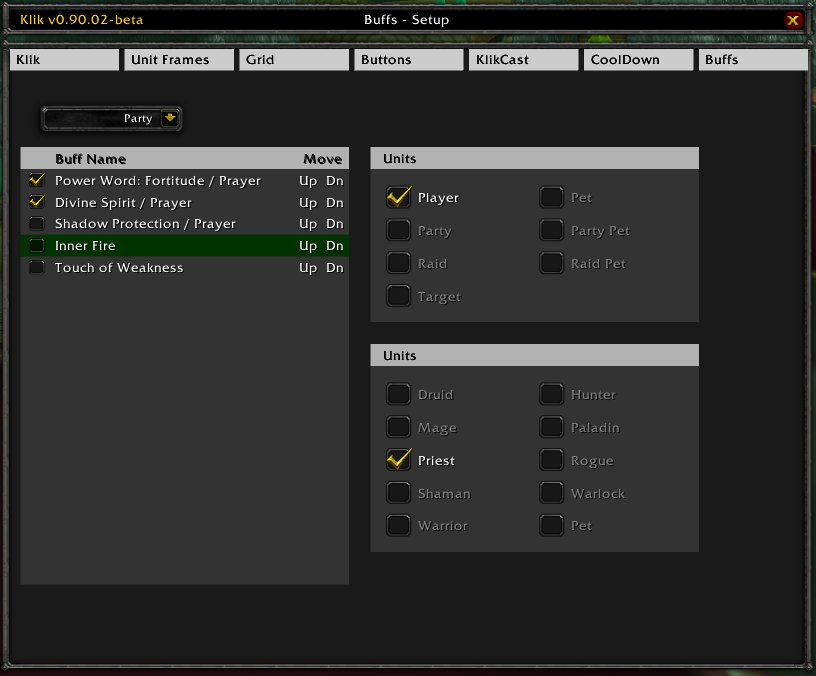 The dropdown on the top of the page allows you to switch between templates for different needs. These templates are:
Solo: Active when solo (ie. are not in a group or raid)
Party: Active when you are in a party, but not in a raid
Raid: Active when you are in a raid, no matter if you are in a party or not
Battleground: Active when in a battleground, no matter if you are solo, grouped or in a raid
Arena: Active when you are in an arena, no matter if you are solo, grouped or in a raid
Chose the template you want to modify and the values on the page will update. During gameplay the approriate template will be chosen automatically.
In the pane on the left side all the buffs are listed which your class can learn, no matter if you already have them learned or not. The buffs you currently do not have are in red font. You can move a specific buff in the list up and down by clicking the approriate arrow. Buffs on top of the list will be cast first when rebuffing missing buffs. With the checkbox on the left side you can mark the buff for tracking of missing buffs and to include it at rebuffing. By clicking on the name of the buff you will select it and more panes will be shown on the page, with which you can set specific settings for the buff.
In the frame called Units you can mark which units are eligible for receiving the buff at rebuff, and for which the buff should show up as missing.
Which classes should receive the buff can be set up in the pane called Classes. This also indicates for which classes the buff should be shown as missing.