Module: Klik Config
About
This module provides the basic configuration and settings for the various Klik modules and provides access to the GUI. Here you can configure settings like which spell use for range checking and other basic configurations.
To open the config window either use the minimap icon or type "/klik" in the chatbox.
Config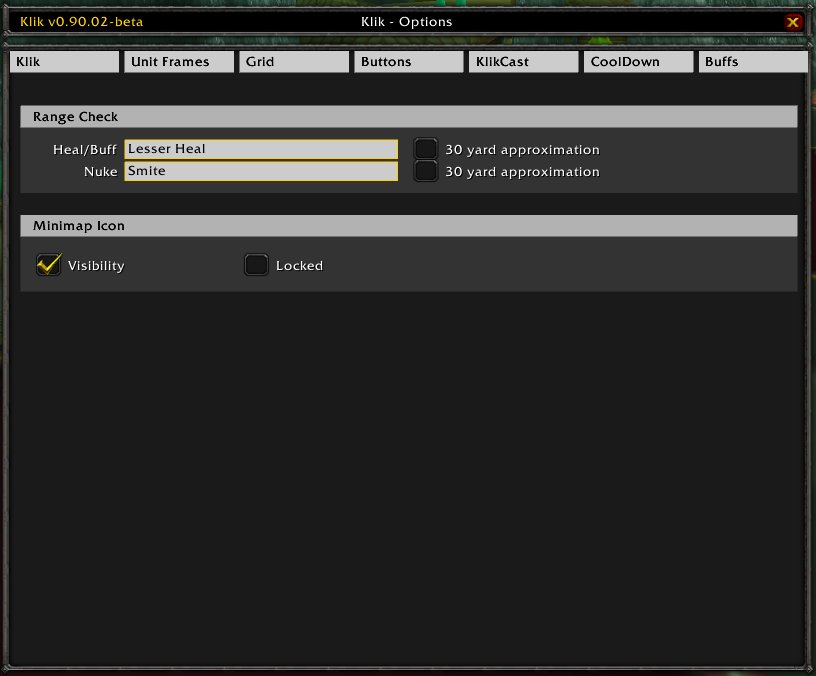 In the pane labeled Range Check you can adjust your settings for range checking. Range checking is done by KlikGrid and KlikUnitFrames, "whitening" the unit when they are aout of range (for details, refer to the modules). At "heal/buff" put in the spell which should be use for range checking on friendly targets, and at "nuke" enter the spell for hostile targets. Normally you should use the spells with your longest range (or the ones you use most often). Also mind your talents when entering spells here (frost based mages would enter "Frostbolt" while firemages would enter "Fireball"). If the spell is printed in red, the spell can not be found in your spellbook, please check your spelling. If you enabled the checkbox at "30 yard approximation", no spell is used for range checking, but an internal API function checks if the unit is within 30 range. This is prefered for units who do not have spells, or do not have the appropriate spells yet.
At Minimap Icon you can adjust the minimap icon settings of Klik. With "visibility" you can either show or hide the icon and with "lock" you can lock the item in place, to avoid accidental moving in the heat of the fight.